Pfizer's remarkable, record-breaking development of a COVID-19 vaccine is the result of ingenuity, agility, and a relentless boss who wasn't afraid to buck trends.
By Rob Kaiser
The year 2020, a time of devastating and unprecedented disruption, will close with another astounding game changer. But in a welcome surprise, this turning point is actually positive, providing hope for ending the COVID-19 pandemic: The approval of a vaccine that was developed in record time by Pfizer and its partner, BioNTech.
A recent Wall Street Journal article detailed this remarkable accomplishment. It's a story of urgency, innovation, creative problem-solving, agile global collaboration, calculated risk in the face of great uncertainty, and performance beyond expectations. It's also a story of demanding leadership that may make some uncomfortable because it appears to conflict with the emphasis on compassionate and empathetic leadership.
Sign up for the monthly TalentQ Newsletter, an essential roundup of news and insights that will help you make critical talent decisions.
All year, Pfizer CEO Albert Bourla refused to accept limits, excuses, or convention. Instead, Bourla pushed his team relentlessly to do more and faster than many thought possible in the service of stopping a raging pandemic. The Wall Street Journal article reports several examples where he ceaselessly drove the team harder and demanded more from them. Of course, many team members pushed back, but Bourla was unwilling to settle for less.
Case in point: As early trials looked promising, Pfizer committed hundreds of millions of dollars for manufacturing and distribution. When the team shared its plan for commercial production, Bourla told them to increase it by at least 10 times. The head of global manufacturing pleaded, "You're asking for too much!" But Bourla held his ground. Based on this episode, and many others, the Wall Street Journal headline referred to him as a "pushy CEO."
But the results speak for themselves.
Bourla's demanding leadership speaks volumes, too. It's a stark reminder of the need for ambitious conviction and high expectations that challenge assumptions to drive high performance. It's fair to say corporate-leadership models and approaches to executive selection and development seem to have forgotten this.
Demanding bosses have fallen out of fashion, especially as organizations experience a talent shortage and changing labor economics that emphasize employee engagement and experience, employee value propositions, and greater sensitivity. We've strayed from the courageous and aspirational drive it takes to bring out the best in people and inspire them to achieve more than they think they can.
Style, however, shouldn't dictate substance.
Some may say extraordinary times call for extraordinary measures, and Bourla's leadership example is an outlier that shouldn't be held up as a role model for leaders operating in less urgent circumstances. But data that we've collected prior to the pandemic reveal an unpopular truth about demanding leadership.
The data are based on 360-degree assessments of almost 20,000 executives and upper-level managers from around the world in a variety of mostly large corporations. More than 300,000 managers, peers, and direct reports rated them using an instrument called the Leadership Versatility Index, which includes a dimension labeled Demanding. This dimension is made up of four behavior items:
Pushes people hard.
Expects a lot from people.
Is direct—tells people when they are dissatisfied with their work.
Holds people accountable—is firm when they don't deliver.
The behaviors are rated on a unique scale, ranging from "too little" to the "right amount" to "too much" (see Figure 1). Raters are left to their own judgment to determine how much of each behavior is just right—or too much. For instance, many on Bourla's team probably would have rated his demanding behavior as excessive.
Figure 1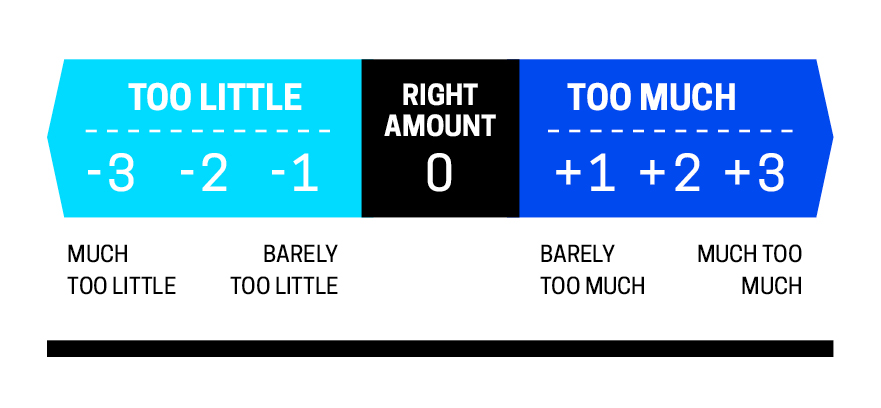 The unpopular truth is in how these ratings are related to team and business-unit performance. The managers of each of the leaders in our sample also rated the productivity of the leaders' teams in terms of quantity, quality, and timeliness of output on a 5-point scale.
Figure 2 depicts the statistical relationship between productivity and stakeholder ratings of demanding leader behavior (aggregated across manager, peer, and direct-report sources—and do not include self-ratings).
Figure 2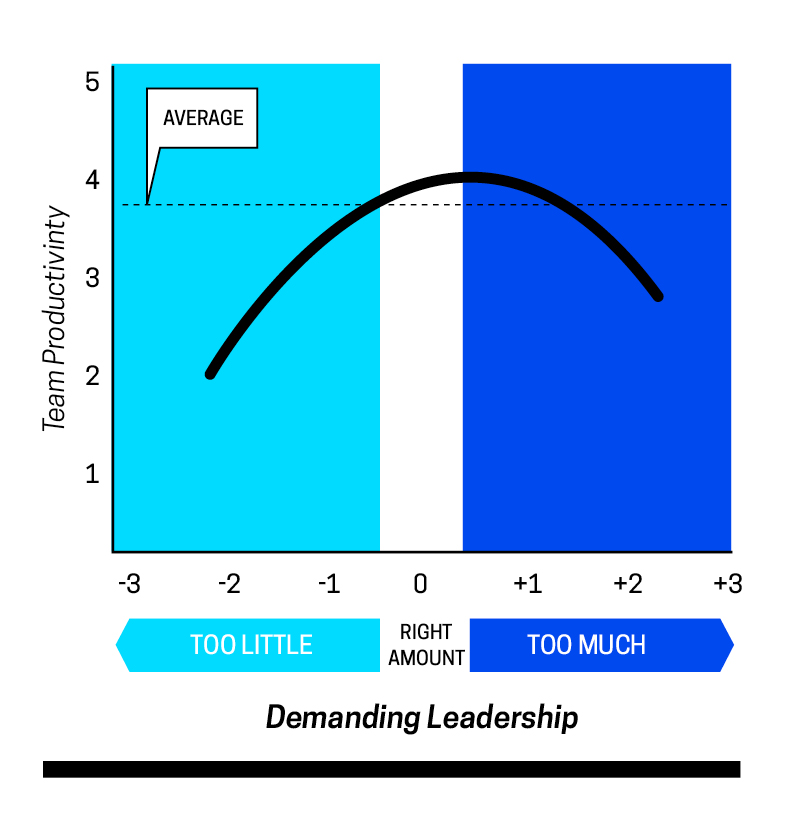 As you might expect, "too little" demanding leadership is associated with the lowest levels of productivity. The interesting finding, however, is that the highest levels of productivity are associated with ratings that veer toward "too much."
Across the spectrum, demanding leadership that's rated "too much" produces more productivity than that rated "too little." In other words, even though stakeholders report these leaders are too demanding, their teams get more accomplished.
Here's the kicker: The majority of leaders in this large sample aren't demanding enough—52 percent of them scored in the "too little" range, while 30 percent scored the "right amount," and 17 percent scored "too much." There just aren't many leaders these days like Albert Bourla.
Of course, there's a breaking point to demanding leadership: As the data show, extreme ratings of "too much" demanding behavior are associated with decreasing productivity. This is what happens when demanding becomes brutal. Once again, Bourla's example provides an instructive lesson. His leadership combines strong, supportive relationships with uncompromising expectations.
In his 25-year career at Pfizer, Bourla has earned a reputation for both friendliness and achievement. He has cultivated a versatile style of leadership that blends these paradoxical qualities, and the trust and credibility it's created appear to have given him the leeway to push harder and harder.
We see this in our data, too: Demanding leaders who also are rated better on supportive behaviors have even more productive teams. The trust established through that personal connection afford demanding leaders extra tolerance for their insistence on extraordinary performance.
There's one more lesson in Bourla's example that helps to account for his astonishingly effective leadership: His unrelenting demands for more, faster, and better weren't ego-driven as much as they were mission-driven.
Bourla and the Pfizer–BioNTech team were guided by a sense of purpose to relieve the world of this terrible pandemic and the destruction it has caused. When the team initially estimated a mid-2021 target for the development of a vaccine, which itself would have been a record, Bourla responded, "Sorry, this will not work. People are dying," and insisted it be ready by October.
Reflecting on the past year, Bourla remarked: "I'm a true believer that people, they don't really know their limits. And usually, they have the tendency to underestimate what they can produce."
He added, "I always try to shoot for the stars, because I know that even if you miss it, you will land somewhere in the moon. But right now it looks like we landed, more or less, in the stars."
We aren't out of the woods yet; mass distribution, not to mention some people's reluctance to take the vaccine, still has to be worked out. But at this point, Pfizer's truly amazing achievement, driven by Bourla's demanding leadership committed to a higher cause, remains a stunning example and has provided hope to a ravaged world desperately in need of it.
As we emerge from this crisis, we'll need to rethink our approach to leadership: how it's defined, selected, developed, and even compensated. Let's hope purpose-driven, demanding leadership is back on the table.
Rob Kaiser is the president of Kaiser Leadership Solutions, which provides innovative tools, methods, and advisory services to help improve organizational performance through better leadership.