Massive organizational change requires agility, business acumen, and complex problem-solving. Now is not the time for your talent management team to be complacent.
By Aaron Sorensen, Ph.D.
The volatility of today's business environment is unprecedented. Beyond COVID-19 and the resulting corporate headwinds, new technologies like automation, artificial intelligence, and digitization are changing business models at a historic rate. Customers' preferences and purchasing behaviors are more fickle than ever.
Alarmingly, only 8 percent of companies surveyed by McKinsey in 2017 said their current business model would remain economically viable if their industry keeps digitizing at its current course and speed. All signals point to increasing volatility for the foreseeable future.
The imperative is clear: transform or die.
While this narrative is well accepted in the c-suite, executing an intense enterprise-wide and multi-year transformational change is still uncharted territory for many businesses that are locked into strategic, operational, and talent planning systems that churn along annual cycles.
Sign up for the monthly TalentQ Newsletter, an essential roundup of news and insights that will help you make critical talent decisions.

It isn't surprising that research indicates less than one-third of transformation initiatives fail to deliver the expected value. There's also little argument among experienced executives that successful execution is largely dependent on how readily an organization can pivot and engage its people in new ways of thinking and behaving that create new pathways for growth. Transformation is, after all, about people—the people behind the ideas, thinking, and machines.

If the era of constant change isn't going away anytime soon, and executing a transformation is heavily weighted toward how a business utilizes its talent, then what is the true role of talent management? Line executives ask that question all the time, wondering why the self-proclaimed "experts" aren't at the table to support crucial decisions about talent.

But the talent leaders are also asking important questions:
• How should they adapt existing talent management practices and processes to support the transformation agenda?
• What work should the talent management function start, stop, and continue to help execute a transformation?
• What should talent professionals be doing to stay relevant and get closer to the action?
• How should talent management and business transformation groups work together?
• And what's the best way to staff a talent management team supporting a business transformation?

These big questions deserve big answers—and big actions. So here are the crucial shifts in thinking and capabilities that you must make if you want to deliver more value to your organization and improve the transformation odds of successful execution.
Transformation Is All About People
Transformation has become a widely popular—and overused—term. It often starts with a company shifting how it engages with customers by introducing new technologies or capabilities that create a differentiated or more valued experience for customers.

This shift usually includes changes to both the go-to-market strategy and business model. Organization restructuring, or when a business goes through a redefinition of roles, accountabilities, and reporting relationships, certainly represents a large change, but not the type considered here.

Digital transformation—which is fundamentally about leveraging data, technology, and analytics to enhance the go-to-market strategy, interact with customers differently, and operate more efficiently—could absolutely fit the criteria of an organizational transformation if there's a broad enterprise impact.

The focus of this article is on the role of talent management in organization transformations that are enterprise-wide in both scope and impact and involve significant change in either the go-to-market strategy or business model.

Consider, for example, what's happening now in the insurance, wealth management, and financial services industries. Nimble startups, often backed by significant venture capital, are making big bets that more consumers will prefer to interact with a mobile app or website to purchase insurance, help plan for retirement, and secure a loan versus speaking to a broker, banker, and financial adviser.

Many of the established players in the industry are racing to develop their own competing technologies and working hard to determine how best to create differentiated experiences for customers that blend a human and tech touch. Executing these changes requires new skill sets to develop new technologies, new structures and ways of working to stand up new business models around customer preferences, and new operational capabilities to sustain change.

The best companies execute transformation initiatives and equip their organizations to sustain improvements over time because they truly recognize that their most important asset is their people. They don't forget that teams of people create the next app, product, or service line. These forward-thinking companies believe that transforming is inherently about unlocking the ideas and skills of the talent through new ways of working and have talent systems that acquire, develop, deploy, and engage people around the transformation agenda.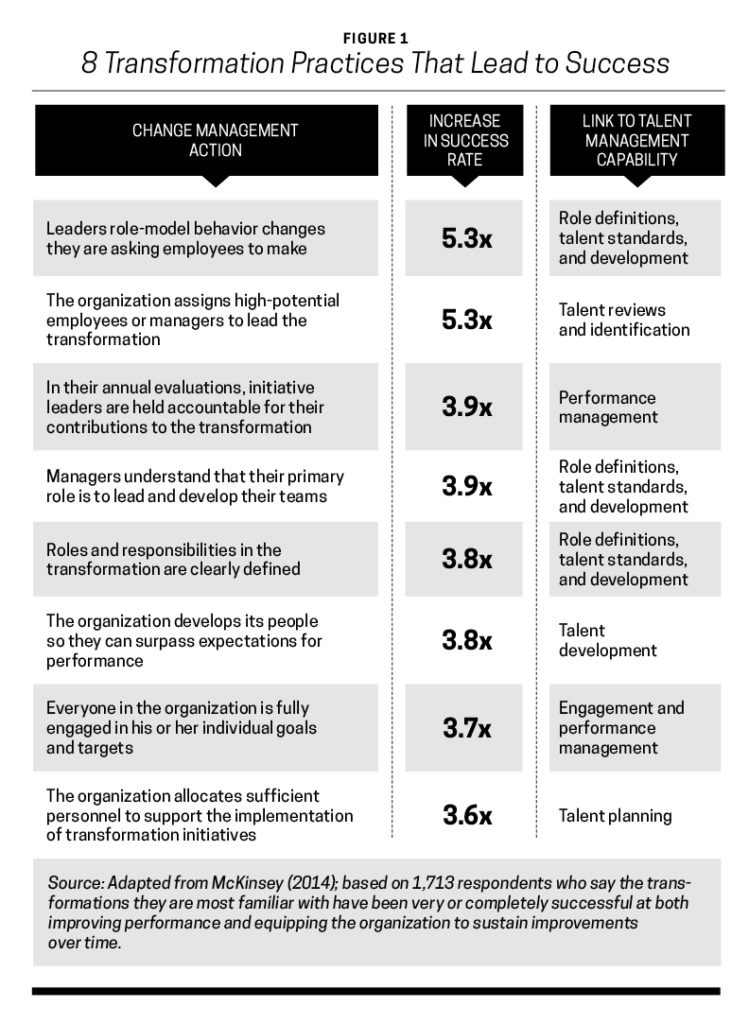 Such organizations strip away drag that many of our well-intentioned management processes create to bring products and solutions to market faster. These companies are constantly renewing themselves around new pathways to growth and have cultures and agile talent management systems that reinforce a growth mindset. Success is largely dependent on how well an organization can identify and deploy growth and unleash its talent in a way that will create value for customers. The odds of success are primarily about how a business manages talent and shapes its organization around the capabilities that will allow it to win.
The Opportunity for Talent Management
Over the past two decades, as talent management has evolved to an established function, much of the focus has been to design, deliver, and maintain programs like succession planning, talent reviews, engagement, assessment, and performance management. These programs create value for the business by acquiring, developing, engaging, and retaining talent more effectively than competitors. During this period, CHROs and VPs of talent have spent many calories "proving" the ROI to the skeptics.
These days, much of the energy is focused on building momentum and leveraging technology to simplify, scale, and lean out administrative and burdensome processes. It's been a long, but successful journey, and based on recent research, it seems that most large businesses ($2.5 billion or more) buy into this value proposition, with 9 out of 10 having a formal talent function.

Talent programs will most certainly continue to evolve and mature over time, but they're now generally accepted practice in most organizations. There also continues to be far less opportunity (and budget) to innovate in these areas as line executives grow impatient with the fad du jour and more evidence accumulates that sound fundamentals and great execution combine to create the best outcomes.

As a result, the more traditional talent programs, such as succession planning, are requiring far less active management. That's because line HR partners and executives are taking on more of a leading role in program delivery, with talent professionals in the copilot seat course correcting along the way.

This creates an exciting opportunity for the function to shift focus and resources from managing programs toward driving the transformation agenda by leveraging the function's skills and capabilities in a much different way. As the company transforms, so must the talent function to stay relevant in an era where agility is becoming the norm.

Successful transformations require getting the strategy-organization-talent equation right and being agile enough to continuously adapt as situations change. This means being able to paint a detailed picture of the "as-is" and "to-be" workforce, describing how it aligns with the future organization design, and advising business leaders on what actions and investments are needed to ensure talent gaps don't create an execution risk.

The talent management function should be more prepared than any other group to advise executives in this area. Who knows the current talent portfolio better? Who knows where in the business the talent resides, what types and quality of leaders are required, how healthy the pipeline is, and how quickly and by what means talent can be redeployed and developed to close gaps?

Unfortunately, this tends to be the exception rather than the rule for many talent management teams. Talent management is developing a reputation for being too programmatic and focused on calendar-driven events, and not being agile enough to adapt to the ongoing demands of an intensive company-wide transformation initiative.

Despite 60 percent of talent management groups having organizational development and 43 percent having change management in the portfolio, these muscles are used less than 5 percent of the time, according to a recent survey by the Talent Strategy Group. Given what I've described above, this is concerning. Are talent management practices becoming too routine? And are teams too locked into running programs instead of engaging in talent work closer to the action?

To address this need in the business, more and more companies are standing up a business transformation group charged with many of the same responsibilities of the talent function. For context, business transformation groups typically range in size between 3 and 10 employees for organizations under $2 billion and 11 to 20 employees for organizations over $2 billion.

Data from Burning Glass, a tool that scrapes and analyzes millions of job postings, indicates that the pace of job postings growth for business transformation roles has been far greater than talent management positions. Since 2013, the number of postings for business transformation roles has grown by about 25 percent each year, flattening out in 2017. In the same period, postings for all talent roles have been relatively stable, a finding that's consistent with recent research indicating that the function has reached peak adoption.

The same data set from Burning Glass also suggests that skills related to change management are among the most desired after project management and business process design skills. What's most interesting: When done well, change management isn't about project plans, scheduling, and flashy PowerPoint decks—it's about leadership and people.

The point here is that after the strategy is set, inevitably "the work" crosses into the talent domain, and this is where things get tricky. Who should be driving this work, and how should talent teams be involved? Execution requires a mix of skills related to talent planning, assessment, analytics, development, training, organization development, and change management—all areas where the talent function has deep expertise and experience.

Talent teams need to be agile and ready to engage around the most challenging, complex problems related to people when executing a transformation. Based on my experiences working with talent management teams that have been integral to executing a transformation, this requires four crucial shifts in thinking and capabilities for talent management.
Mindset Shift #1
From: Dogmatism about best practices
To: Designing around business and customer needs
As the boxer Mike Tyson once told a reporter about his opponents' fight plans: "Everyone has a plan until they get punched in the mouth."
The same is true for transformation initiatives. Despite the best planning, this work is often a messy undertaking, with many pivots along the journey as challenges emerge and strategies evolve. As a result, talent data and tools become less relevant for predicting future success.

With this context in mind, there's nothing that will get you uninvited from the party quicker than being too rigid and dogmatic about following best practices to the letter. Does that mean we should throw out the scientific rigor of the trade for the sake of speed? Absolutely not! But perfection is most certainly the enemy of good when it comes to transformations.

Success is often based more on art than science. Strategies are less than clear, roles don't exist or are being formed, and most of the tools and data accumulated on the current workforce don't translate well to future scenarios or predict success in a new environment. Heavy talent interventions must be more surgical and minimally invasive. In many respects, intuition and deep business acumen are the most crucial skills, but it's important to not stray too far from the data and our understanding about what does and doesn't work based on science.
Mindset Shift #2
From: Calendar-driven programs
To: Delivery of agile capabilities that help solve talent-related business problems
To be clear, designing and delivering talent management programs and processes like talent reviews, succession planning, performance management, and leadership development must continue to be a core capability.

Let's not abandon these programs after working so hard to establish them. Many progressive talent management teams have evolved these programs to be more agile versus episodic, but in the main, they will largely be event-driven. When done right, these programs deliver enormous value and are now part of the normal operating cadence for most organizations.

The point here is that talent processes have gone too far in aligning themselves with annual strategic and operational planning cycles that churn along annual cycles. Too many rely on a programmatic approach to advising senior leaders and have neglected a huge opportunity to leverage existing capabilities to address talent-related business problems.

The finance function, by way of comparison, seems to be further ahead in how it supports transformation initiatives. Just like the talent function, finance has many calendar-driven processes and has formed teams around the programmatic aspects of the function, like end-of-month close, budgeting, taxes, and internal reporting.

However, the financial planning and analysis team, which often has a matrix reporting into the CFO, includes highly skilled individuals with capabilities that help the business gather data, analyze it, and evaluate the entirety of a business's financial activities. This team also maps out the financial future along the transformation journey. Talent should take a cue from finance and consider how the function builds and deploys capabilities in a similar manner.
Mindset Shift #3
From: A talent tool mindset
To: A business solutions mindset
As the talent function has matured, particularly over the past decade, there's been a strong trend toward "productization" of tools, analytics, and decision guidance related to people. The upsides of this movement are obvious: In many respects, productization will be a key driver of the evolution of the talent function as technologies continue to advance and talent leaders look for opportunities to optimize burdensome processes with a more intuitive user experience.

The movement has been mostly led by software firms, tech startups, and survey providers, who all saw an opportunity in the space to create standardized and repeatable offerings delivered through slick technology or access to benchmarks.

While there will undoubtedly continue to be a place for talent-related products for the foreseeable future, these tools are effective and profitable to the firms that sell them because they're designed to address a narrow set of needs that many companies share.

Customizing around a company's unique needs drags down profit for these firms. Few transformation journeys are the same, and the types of data, analyses, profiles, and decisions tend to be very bespoke to the types of change, culture, and business model. That's why these products tend to be less helpful than a home-grown survey, Excel model, or tailored leadership model.

If a function over-relies on the products that have helped it create scale, what happens when it's handed a complex and unstructured business problem that those products can't solve? The professionals who succeed in influencing talent decisions during a transformation are those who create talent solutions bundled from tools and methods that work for the business. These pros have a deep tool kit, but recognize when a new solution is needed by duct-taping together different tools to get the job done.
Mindset Shift #4
From: An observer of change
To: A driver of change through new leadership concepts
While 43 percent of companies indicated in a recent study that change management is a capability that resides in the talent management function, the same respondents said they rarely utilize this skill. This statistic becomes concerning when you consider what managing change truly requires: aligning and equipping leaders, managers, and staffers to sustain change. It's clear from the abundance of research that leadership is what separates companies that can pull off a transformation from those that can't.

In another study, McKinsey asked 1,713 people about the transformations with which they were most familiar, and whether they've been very or completely successful at both improving performance and equipping the organization to sustain improvements over time. The researchers also asked what change management actions were taken.

The results identify 24 transformation practices that correlate most with success, while the overall success rate more than doubles from the average (26 percent) to 58 percent when these practices are employed.

Of the 24 practices, eight of them are directly related to areas such as leadership (models, expectations, and development), performance management, high-potential identification, role definition and talent expectations, and talent planning (see Figure 1). These results highlight the essential role of talent to increase your odds of a successful transformation.

Because transformations are more about the people in the company than a strategy or technology initiative, there's clearly a huge opportunity for talent professionals to help drive change. Leadership is a particularly important area where the talent function can substantially contribute. However, this will require the function to also transform the way it approaches the topic.

Delivering sustainable change requires leaders to develop new ways of thinking, working, and behaving to transform the way teams work. This means that the talent function must venture beyond things like talent reviews, 9-box grids, position depth charts, and coaching programs. Success requires operating in a more agile manner to ensure the business identifies and positions the best individuals to lead the transformation, and that they have the right skills to be effective as a visible champion of change.
But because behavior is difficult to change—especially for a senior leader whose behavior is often deeply ingrained through years of reinforcement—creating sustainable change begins with a mindset shift that is a deeply personal journey.

Here, too, is an opportunity for the talent function to stop managing coaching programs from a distance and get closer to the action by working directly with leaders to help them make this challenging journey.

Many organizations have found success in equipping their leaders to lead change by re-envisioning their coaching programs around concepts borrowed from the agile movement. Rather than centering the coaching process around stakeholder feedback and competencies, these programs have found success by helping leaders have a growth mindset about how they and their teams contribute in new and different ways.

The talent function must advocate for things like simulations, leadership labs, and other non-threatening environments that allow leaders to practice, fail, and learn new behaviors.
Ready for Action?
These shifts don't come easy, especially since they'll need to happen while existing talent programs are being delivered. But many progressive talent teams have pulled off the balancing act. The best way to get going is to start building bridges and collaborate with the transformation group. Inquire about the transformation plan, program management office, and governance structure to learn where talent can offer perspectives about the workforce and support the work. Understand what budgets and resources have been allocated toward workforce management and be ready to share what the talent team can bring to the table and where talent can and should be involved.

You should also participate on a transformation program steering committee or offer resources from the talent function to support initiatives run by the program office. If you don't have a transformation office, but your business is going through change, ask your senior leaders about their plans to ensure the workforce is ready and capable to execute the change, and how they plan to minimize execution risk. Talent management can engage with the leadership team in identifying risks and mitigation strategies.

You should also recognize that not everyone will be able to make this journey, since it does require a level of adaptability in thinking and engaging with stakeholders that's less common in the ranks.

For most talent professionals and their teams, the transformation imperative presents an opportunity to deliver insights about the workforce and people in a different, but very rewarding and meaningful way that builds from existing skill sets.

Talent management can absolutely improve the transformation odds of success, but taking advantage of this opportunity requires the function to transform itself by reevaluating its value proposition to the business. You must also engage in different ways that help your organization build capabilities to continuously find and execute new pathways to growth.

Let the shifting begin.
Aaron Sorensen, Ph.D., is a partner at Axiom Consulting Partners. As a psychologist with a background in organization transformation and talent management, Sorensen is known for developing innovative and yet pragmatic solutions that blend behavioral science, analytics, and practical business savvy.